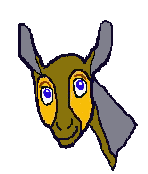 Wow!! Our 2004 kidding season has come and gone. We are sold out for this year, and the kids have all gone to their new homes. To see particular infomation about our animals, click on the "Goat" button, and then select the name of the doe in which you are interested from the list at the left. I regret to say, however, that we will NOT be breeding any does this Fall. We're not getting any younger, and are going to take a year's hiatus.
The October "Tip" is a discussion on the cold weather care of goats (and other animals). Since Winter, and its accompanying inclement weather are fast approaching, we thought this was a timely and appropriate topic. We hope you all find a pearl of wisdom to help you out. To read about this topic, just click on the "Tip" button above.
The October Embroidery Special features our warm, comfortable 50/50 cotton/poly heavyweight sweatshirts. For only $25, we will custom embroider your breed of choice and herd name on your shirt (shipping included). Available colors are white, natural, denim blue, and beige. And we have the most extensive selection of goat-themed designs in the country. To learn more about any of our products, just click on the "Store" button , and then follow a link to our Catalog to see any of the items in our repetoire. Or e-mail us today with specific questions regarding prices and/or any special design requests. And if you want some item you don't see mentioned in our catalog, just drop us a line. Chances are we can get it for you.
We are now accepting payments thru the services of "Pay Pal". We have been up and running on Ebay also. We now have the customer friendly Pay Pay button here at the web site on the order forms, at the store, and here at the "news" page. Just click on the Pay Pal button and follow the on-screen instructions to send payment for any product. This should make it easier to purchase items, while still maintaining our lower pricing structure.
Drop us an e-mail to discuss our custom digitization of your business logo, or let us create some wearable art for you. Our extensive design inventory will surely have at least one of your interests in glorious detail.
Please note that our catalog of designs just "scratches the surface" of our design inventory. If you have a question about the availability of a design, drop us an e-mail. To visit our shop, click on the "store" button, and follow the link to our catalog.