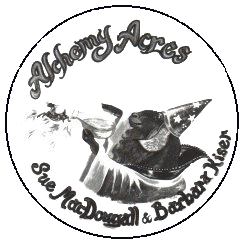 Alchemy Acres
presents
Tip of the Month








---
Those of us with animals and livestock know that working with our cherubs is not always an aromatic delight. A while back, Lea Tari posted to the Packgoat List some helpful suggestions to battle the everyday "stink" acquired while working on a farm. She states that "Paul Krebaum, a chemist for the Molex corporation in Lisle, Illinois, has developed a foolproof odor remover. This odor remover works on anything including decomposing organic matter, fecal matter, urine and skunk spray." This odor remover is made from simple household ingredients:
1 quart of 3% hydrogen peroxide,
1/4 cup of baking soda,
1 teaspoon of liquid dish soap.
Mix the three ingredients together and use immediately. The chemical reaction produced from these ingredients lasts only a limited time. If you use this formula to remove skunk odor from your pet, be sure to rinse off him off with water. Do not let the solution soak for more than a few minutes.
More explanation: The soap breaks down the oils that bind the active ingredients in the skunk's scent to object sprayed. The hydrogen peroxide and baking soda mixture oxidizes (breaks down) the active ingredients into ones that do not smell. If you were to attempt to store this mixture in a bottle, the rapid generation of oxygen gas could cause the bottle to explode.
Hope this helps with all your oderiferous problems. See you all next month.
---

Write us with your comments and suggestions.