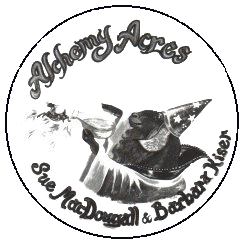 Alchemy Acres
presents
Tip of the Month








---
Here is a list that I found describing the development of kids during gestation.




Development of Kid



20 Days - Heart beat apparent.
28-35 Days - Limb buds visible.
35-42 Days - Differentiation of digits.
42-49 Days - Nostrils and eyes differentiated.
49-56 Days - Eyelids close.
77-84 Days - Horn pits appear.
98-105 Days - Hair around eyes & muzzle; tooth eruption.
119-126 Days - Hair covering body.
Incidentally, we have found that a two week premie is worth the effort to save. Any earlier than this requires Herculean effort, and may not economically feasible.
---
Write us with your comments and suggestions.