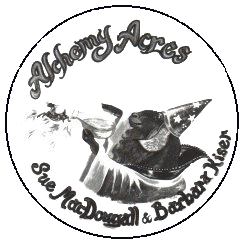 Alchemy Acres
presents
Tip of the Month








---
A good friend of mine, Ruth Lohrey, always gives her "Newbie" customers a primer to help them with the day-to-day goat husbandry tasks. I am going to pilfer a lot of her ideas and pass them along to you in the next couple of the "Tips of the Month". So here goes.
ON HAND AT ALL TIMES

Bactine disinfectant
Bloodstop powder
Weight tape
Latex Surgical Gloves
Needles-20ga, 22ga for kids
Anti-diarrheal liquid
Liquid "children's" Tylenol
Pepto-Bismol
7% Iodine
Veterinary rectal thermometer - keep in 2 minutes - normal=102.5
Sterile scalpel & dosposable blades
Disposable syringes -3cc, some 5cc and 12cc
Sterile stomach tube - keep clean, used one for water enema. Learn how to use it - ask vet to show you!!
Milk of Magnesia - soothing, collects toxins
Mineral oil - for constipation
WORMERS

Ivomec 1% Swine Injectable - DO NOT INJECT, GIVE ORALLY. We use a TB syringe calibrated to 1cc. Insert larger needle into the vial, fasten the syringe, and draw the amount you need. Disconnect the syringe, leaving the needle in for the next dose, and squeeze the wormer into the goat's mouth. This is very safe when used this way, and we normally overdose slightly (Check with your vet). 1cc per 100# is the normal dosage, and we up that by 25 to 50%, especially for adults (Check with your vet before giving any medicine). You can quickly see how much to use: a 20# kid - fill to .2 on the syringe.
Safeguard Horse Wormer - Difficult to use unless you can find it in a small container. It is very safe, broad spectrum, and the dosage can be figured out for adults, but not easily, so do it carefully. Safeguard can be used on pregnant animals, although we don't do it unless it is absolutely necessarily.
Tramisol Sheep oblet - 1 oblet per 50#. Crush the oblet(s) and mix them into peanut butter. Give orally. There is some debate about how effective it is. Some worms may be resistant to it nowadays.
IMPORTANT MEDICATIONS: READ ALL DIRECTIONS CAREFULLY

Epinephrine - for anaphylactic shock. We keep a baggie in the frige with the vial, directions, and 2 syringes. ALWAYS keep this in your pocket when giving shots. YOU DO NOT HAVE TIME TO RUN TO THE HOUSE TO GET IT!! Rarely happens, but don't take a chance.
Vitamin B Complex - Excellent for stress, after a lengthy kidding or illness or just not "looking right". Sometimes vital. Measure carefully.
Clostridium Perfringens Type C&D - Prevents enterotoxemia, the only symptom of which is death. Important each year - 1cc - we give to does 3 to 4 weeks before kidding and boosters to kids at 1 to 2 months, then yearly thereafter. Bucks and wethers need the same yearly dose. May leave a small lump under the skin that is slow to go away.
Tetanus toxoid - 1/2cc twice a year if goats have any contact with horses, even old fields, stalls, etc.
FEEDING, ETC

Chow - Adults: 1 lb, twice daily for weight maintenance. Milkers are fed more, according to milk production. Pregnant does are fed slightly increasing amounts as the due date approaches (maybe by 50%). Do not overfeed. Fat does are unhealthy, harder to breed, may have kidding difficulties, and the newborns can be over-large. Keep all feed in metal containers that are confined in an area secure from the goats. They are clever, tricky, sneaky and can die from overeating. VERY IMPORTANT.
Fresh-Smelling Hay - Give in morning before letting into fields, especially when the forage is wet or dewy, or the new growth is luxurious in the Spring. A bit in the belly will help balance the green vegetation. If goats are kept in the barn, hay should be present at all times. Moldy hay can cause abortions or even death. Any hay that falls on the floor will be walked on and not eaten, but they enjoy it for bedding. NEVER USE HANGING MESH HORSE FEEDERS, and make certain that the kids can not get their heads stuck in any type of feeder that you use. Some taper at the bottom and are dangerous.
Baking soda - give free choice
Wheat germ oil - Spray some on chow at least once a week.
Diamond-V Active Yeast - 1/2 cup per adult per week. Excellent.
Mineral salt - Free choice or a pinch each feeding.
Cider Vinegar - a spoonful a day or some in the drinking water. Important for bucks and wethers. Good tonic for all and they love it.
Probios - Excellent for use when the animal is not "cudding" or after administration of antibiotics (which can kill good bacteria, too).
Next month we'll cover ideas on housing and kidding, among other topics. Always, however, keep in mind that this is how we do things - what works for us. You will undoubtedly want to modify the list to suit yourself. We just hope this list helps you to keep your cherubs happy, safe, and healthy.
---
Write us with your comments and suggestions.