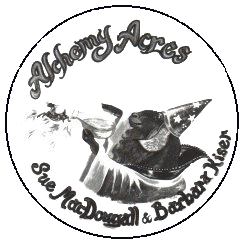 Alchemy Acres
presents
Tip of the Month








---
I must admit that I cannot eat my own cherubs - sort of like devouring a family member. And besides, I've worked for over 20 years to build my gene pool to the point where I don't get "culls". Still, there's always the chance that I (or you) could have a "buck year" and have a large surplus of bucklings. There is a large ethnic market for these meat animals. Middle Eastern and Latin cultures know something that we Anglos apparently don't - namely that chevon (goat meat) is not only nutritious, but also delicious. Just consider the comparative nutrition values listed in the table below:
Comparative Nutrition of Major Meats

Cooked(3 oz)

Calories

Fat(g)

Saturated Fat(g)

Protein(g)

Iron(mg)

Goat

122

2.5

.79

23

3.3

Beef

245

16

6.8

23

2.9

Pork

310

24

8.7

21

2.7

Lamb

235

16

7.3

22

1.4

Chicken

120

3.5

1.1

21

1.53
These values were gleaned from various USDA and Dept. of Agriculture bulletins, and it is immediately obvious that chevon is lower in calories, fat, and saturated fat, while being higher in protein and iron contents. I tell you folks - this ain't bad at all. The only comparable meats - chicken and seafood - have decided drawbacks. Due to hormonal contamination and salmonella, chicken is not always acceptable, and we've all read with concern about contamination of fish with various chemicals (e.g. mercury). So chevon looks better all the time. Now that we know the chevon is just super, what the heck do we do with it? Well, I'm pretty big into "one-dish" meals, so here is a recipe for goat stew.
Goat Stew #1



4 lbs goat meat - cubed.
1 tbsp vegetable oil
2 tsp salt
4 tsp mixed spices (pepper and cumin)
3 cloves garlic
8 oz tomato sauce
2 tbsp flour
1/2 cup water

Cut the meat into cubes and brown in the oil. Add salt. Grind the spices and garlic, and add a small amount of water. Add the spices, the tomato sauce, and enough water to cover the meat. Simmer for 30-40 minutes. Blend the flour and 1/2 cup water. Stir this paste into the meat to make a gravy. If you wish, you can top this stew with dumplings - yummmm!! The recipe for excellent dumplings can be found on a package of Bisquick.
So there you have it. Every now and then, I'll toss in a recipe for cooking goat. It is a ready source of nutritious meat, and can help you turn a profit on your little (or big) goat-keeping enterprise. Have a nice month, and if you have a topic you'd like covered, drop me an e-mail.
---
Write us with your comments and suggestions.