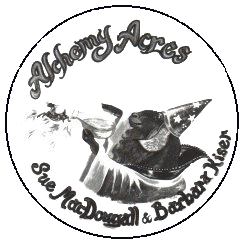 Alchemy Acres
presents
Tip of the Month








---
This update has been a little long in coming. I can't believe that I have even less time now that I've retired. I thought by now I would be sitting on the veranda sipping mint julips. Where have I gone wrong???? Such is life - I guess. But I digress.
I am assuming that you now have your does bred. The first order of business is to keep watching the doe to make certain that she has settled and has not aborted. And now that she is with kid, be certain that you keep her feet well trimmed. She will carry a lot of extra weight at this time, and good feet will keep her legs from possibly becoming damaged during pregnancy. The feeding program must also be adjusted to each individual doe. It is important that the doe is not overfed during the first two trimesters, or she may develop a fatty liver, which could lead to ketosis when she kids. Ideally, the doe should be lean during late lactation (not scrawny), lean while she is dry, and gaining weight when she becomes pregnant. During the last six weeks of the pregnancy, up the feed ration, as this is the time when the kids will grow the fastest. Of course, all of this is easier said than done. An adequate feed ration will not only depend on the doe herself, but also upon the number of kids she is carrying. And unless you x-ray (I don't like this) or ultrasound the doe, you can't be certain how many kids she is carrying. But generally, you can make a darned good guess. Certainly, the pregnant doe should have unlimited quantities of high-quality hay. Most authorities agree that grass hay is preferable at this time, but frankly, after my girls got a taste for alfalfa, they wouldn't touch grass. We do not like to worm the does during pregnancy, but if (and only if) we see a problem, we will worm a doe with Safegard. So for the next few months, we will have a brief "vacation" while waiting for kids to roll off the assembly lines - as it were. Actually, this is a good time to catch up on all those little chores that you didn't have time to do during Spring and Summer. We at Alchemy Acres just replaced about 600 feet of fencing and rebuilt some dilapidated barn doors. Next on the agenda is to upgrade the electrical lines to the barn. Next month (hopefully I'll be on time next month) we'll cover how to spot the signs of pending delivery and discuss the acquisition of a kidding "kit".
---
Write us with your comments and suggestions.