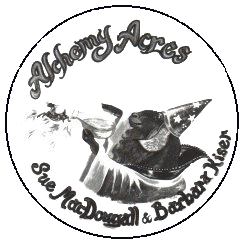 Alchemy Acres
presents
Tip of the Month








---
For the past couple years, I've written serious tips to help the novice and (hopefully) the experienced goat keeper. This month, I'm going to share a whimsical piece that was given to me as a birthday gift by my friend Trish Holst. I hope you enjoy it as much as I did.

All I Need to Know in Life I learned from My Goats


Don't cry over Spilled milk.
Milk every opportunity for all its worth.
Quit complaining and get a goat.
Its never polite to horn in on a conversation.
No ifs, ands, or butts.
Don't buck the system.
No kidding around.
Cream always rises to the top.
Only lock horns when you know you can win.
Bread usually falls butter side down.
When the going gets tough, the tough hoof it.
Count your does instead of sheep.
Don't ever leave red shirts hanging on the line.
If you feel like kicking the bucket, get help.
Whatever you want is always at the udder end.
Never let anybody get your goat.
Does eat oats, and a kid'll eat ivy, too.
Buttering people up only makes them suspicious.
If you feel lazy, sell your lawnmower and get a goat (Would that this were true).
When you hear a voice saying it's too cold to go out and milk, believe it.
No matter what you do, never tell the kids.
Isn't this life udderly wonderful!
You've gotta be kidding.
Maa`aa`a.

I dare say there are a few nuggets of wisdom here by which we might all live. Hope you enjoyed this brief digression from the serious business of animal husbandry that we usually cover. Have a great month, and next time, we'll cover the subject of chevon as an alternative menu selection.
---
Write us with your comments and suggestions.