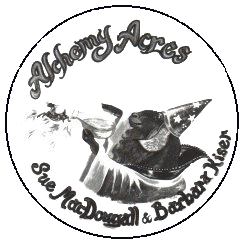 Alchemy Acres
presents
Tip of the Month








---
Way back in the Black Ages (early Summer), I attended the Clemson Spring Classic hosted by the South Carolina Dairy Goat Association. We didn't take goats, but rather pictures of goats (otherwise known as embroidered wearable art). In any case, while I was there, I raided their handout table for helpful handouts. A couple of these listed a number of resources for information and for purchasing supplies. I am hereby going to pass these lists along to you in the form of a "Tip of the Month". So here goes.

Supply Catalogs

American Livestock Supply, 613 Atlas Ave., P.O. 8441, Madison, WI 53708-8441. $5 service charge under $75 order. Mostly cow dairy, but some general livestock supplies.
Caprine Supply, 33001 West 83rd St., P.O. Box Y, DeSoto, KS 66018. Phone orders 1-800-646-7736. S&H based on order total. Mostly dairy goat, but many general goat supplies also.
Hoegger Supply Company, 160 Providence Rd., Fayetteville, GA 30215. Phone: 1-800-221-4628. S&H bases on order total. Mostly dairy goat/some non-dairy goat items.
Jeffers, P.O. Box 100, Dothan, AL 36302-0100. Phone 1-800-JEFFERS. $5 processing charge under $50 order. General livestock supplies. Usually best prices. Also horse and pet catalogs.
Mid-States Livestock Supplies, 3900 Groves Rd., P.O.Box 32461, Columbus, OH 43232-0461. Phone: 1-800-841-9665.
Nasco Farm & Ranch, 901 Janesville Ave., Fort Atkinson, WI 53538-0901. Phone: 1-800-558-9595. E-mail: info@nascofa.com. Shipping charges applied to every item ordered. Generally more expensive, but carry many items not found in other catalogs.
PBS Livestock Health, 2800 Leemont Ave. N.W., P.O. Box 9101, Canton, OH 44711-9101. Phone: 1-800-321-0235. $5 processing charge under $50 order. General livestock supplies. Horse catalog also. Discount on orders over $250.
Valley Vet Supply, East Hwy 36, P.O. Box 504, Marysville, KS 66508-0504. Phone: 1-800-468-0059. $5 processing charge under $50 order. Also equine catalog. More clothing items than most catalogs.
Wiggins & Associates, INC., 1155 Southwest Towle Ave., Gresham, OR 97080-9626. Phone: 1-800-600-0716. No sales tax. Free Shipping USA. General livestock supplies.
In addition to acquiring goodies, a formidable store of information is invaluable to the goatkeeper. Hence - the following list of goat and farm-oriented magazines. You're sure to find a periodical to suit your fancy here.
Magazines and Periodicals

Countryside & Small Stock Journal, N. 2601 Winter Sports Rd., Withee, WI 54498.
Dairy Goat Journal, P.O. Box 10, Lake Mills, WI 53551. Phone: 1-920-648-8285.
Farm & Ranch News, P.O.Box 15749#870, Boise, ID 83715. Phone: 1-800-525-1166. E-mail: ritewaypub@aol.com.
Gloryland Cheesemaking Supply Co., P.O. Box 2580, Santa Monica, CA 93457. Phone: 1-805-934-1126.
Goat Rancher, 731 Sandy Branch Rd., Sarah, MS 38665. Phone: 1-601-562-9529. E-mail: gogoats@mail.gmi.net.
The Goat Magazine, HCR 2, Box 23, Nixon, TX 78140. Phone: 1-830-789-4268. E-mail: goatmag@earthlink.net.
Homesteaders Connection, 721 McKinnon Rd., Boston, GA 31626. Phone: 1-912-228-4215. E-mail: patlenzo@surfsouth.com.
New England Cheesemaking Supply Co., P.O. Box 85 DG, Ashfield, MA 01330. Phone: 1-413-628-3808. E-mail: info@cheesemaking.com. Web: http://www.cheesemaking.com.
American SMALL FARM, Livelihood, Lifestyle, and Tradition, P.O. Box 10246, Canoga park, CA 91309-1264.
United Caprine News, P.O.Box 365, Granberry, TX 76048-0365. Phone: 1-817-579-5211.
We hope you find these lists of various and sundry resources to be as useful to you as they have been to us. Best wishes from the inmates here at Alchemy, and we'll see you again next month.
---
Write us with your comments and suggestions.