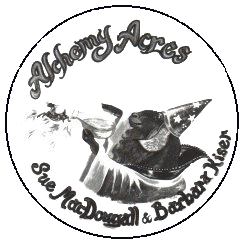 Alchemy Acres
presents
Tip of the Month








---
Last month we discussed the profitibility of purchasing top quality stock. But to make our little enterprise operate in the black, we are going to have to market our product. It does not matter how good the product if no one knows we have this marvelous commodity for sale. So this month, we are going to discuss getting the word out to all our potential customers. Speaking of customers - we have to spend time identifying our customer base and determining where these prospects are located. Don't overlook this phase of your operation, for it will determine just where you will advertise. And you are going to want to Advertise, Advertise, Advertise. Some of the tactics to consider are the following:
Have a large number of printed business cards printed. You can do the design yourself on a personal computer, and then take the file to a local printer. Print a map to your place on the back of the card so that your farm becomes easy to find. Get the card in as many places and to as many people as you possibly can. Give them to everyone with a hand to receive them - even if they don't appear to be goat-sale prospects. Post them on any bulletin board you see - at supermarkets, laundries, feed stores, Walmart, service stations, anywhere you see cards. Any time you write a letter, drop a card in. You will be surprised how many goats you sell from cards you gave out 3-4 years ago. Go to nearby towns, and spread your cards everywhere - at least in the neighboring counties.
Survey all the radio stations - AM & FM - you can locate on your radio. Call these stations and find out if they offer a free "classified"program - something like "Trading Post" or" Classified on the Air" , etc. Some require you mail them the ad while others require that you call in the ad when the program is on the air. Be sure to give age, description, price, and something akin to "reduced" or "cost-effective". Make certain your phone number is pronounced clearly, and use the Area Code. Say the number twice, and then be home to answer the phone at the specified times - say from 4:00 to 10:00 P.M., or whatever is convenient for you. Sometimes the best time to take calls is when the show is on the air and for an hour or two thereafter - striking when the iron is hot, so-to-speak. Don't be satisfied to place the ad in just one show. Don't underestimate the power of selling this way.
Use those little free classified newspapers and magazines you see at supermarkets or the ones that charge a fee only when you sell your product. However, an ad is worth paying for if you have determined the correct price.
Go to your local fairs and goat shows. Wear a jacket or t-shirt emblazed with your farm logo, your breed, address, and phone number. Be your own walking billboard. Carry a tote with your farm logo, list of products, address, and phone number on it. You can take these everywhere - shopping, on family jaunts, etc.
Have some cost-effective promotional items for your farm made, and give one to each customer who buys one of your prime goats. They'll wear it and advertise for you at the same time.
Put your ad on your phone answering machine:"Hi! Sorry we are temporarily unavailable, but we would like to invite you to come by Happy Goat Acres at 1234 Goat Lane to see our beautiful Nubian Dairy Goats. Have a happy and prosperous day. Please call again." Speak in an upbeat manner, and pronounce the words clearly.
Make a neat and attractive farm sign - something akin to Happy Goat Acres, Registered Nubian Dairy Goats, Stock Always for Sale, plus your phone number. Leave another sign at a main intersection that will lead the customer to your first sign and hence to your homestead. A picture of a goat on the sign will add to its effectiveness. Always use a phone number for those individuals who don't have time to stop at that moment. If you can't make a neat sign, have one made by someone who can - barter, if possible.
Use a magnetic sign on the side of your car, or have a specialty shop paint one on the side of your truck.
If your farm is anywhere near the road, have a local woodworker cut you a plywood goat (whole body), paint it the correct color, and nail it to the front of your barn or use it as a sign beside the road. Try to barter or do the work yourself - its not that difficult if you have the correct saw.
Expand your operation.The more things you have for sale - goats, chickens, ducks, peafowl. etc., the more opportunities you will have. A sale of a duck may lead to someone telling someone else that you have goats and vice-versa.
Open your BIG MOUTH. Tell all your friends, family, coworkers, etc. that you have a farm with all these marvelous products. Ask them to advertise for you. Encourage people to come and look around - whether or not they want to buy. They will remember your place and tell soomeone who is a potential customer what a nice place you have and what you have for sale. At the very least, you'll meet some nice people. Word of mouth is excellent advertising and is free.
If you are computer literate, set up your own web site. Otherwise, get a friend to set up your site or hire a professional. Learn how to maintain the site yourself. Utilize the free bulletin boards on the Internet. There's a whole new world out there.
Consider advertising in the breeders listings of a national goat magazine such as the United Caprine News, The Homesteader's Connection, or The Dairy Goat Journal. Don't overlook advertising in your Farm Bureau News or your Coop Newspaper. They distribute to your state and to the farm population. These are your customers.

These are but a few ideas for getting the word out. Remember - you must have a quality product. You must get the word out. And most importantly, you must treat your customers honestly and fairly. Keep your word. Don't promise more than you can deliver. I also want at this time to thank Gordon Crump for allowing me to pilfer a bunch of his marketing strategies. There are a couple nuggets here that I, myself, haven't tried, but am surely going to attempt.

Next month, I'm going to digress a bit and discuss the acquisition of a livestock guardian dog. Then we'll come back and discuss how to market milk without getting into hot water or bringing the regulatory authorities down on you.
---
Write us with your comments and suggestions.