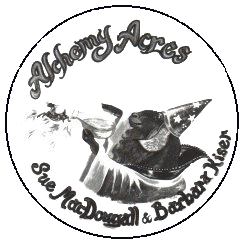 Alchemy Acres
presents
Tip of the Month








---
Last month we discussed the advantages towards maintaining either a large or a small herd of dairy goats. This month we're going to cogitate on the disadvantages of each.
Big Herd




It takes a lot more money to care for your herd - we're talking the national budget here.
It takes a bunch more time to care for all the animals. There's more hay to handle, more crap to clean out, more hoof trimming, more time milking, more everything.
One person cannot do this alone. It requires a willing family or a wad of money to hire laborers.
You need more land, and must watch your ratio of goats/ acre much more closely.
You need a big barn.
If you have lots of does, you need more bucks.
If you get a serious disease in the herd, it can spread quite rapidly.
Your vet bills can be unworldly.
You are awash in milk. You have to find some other enterprise to utilize the bounty.
Small Herd




You could be considered a "hobby farm" and not be able to take expenses off your taxes.
Its possible you might not have enough milk to get you thru the winter.
Its harder to pick out "show" animals. You get less premium money at the shows, and it will take you a bit longer to cover your wall with ribbons and rosettes.
Its harder to prove your buck. He's bred to fewer does, and thus has fewer kids. It could take years to figure out if he's genetically super or a real dud.
That just about covers it. Guess you can tell which side of the fence I'm on. There are folks who have huge herds and really do a good job with all their animals. Furthermore, they seem to enjoy the entire exercise. Personally, they'd haul me off to the Tennessee State Home for the Bewildered if I had many more than I have right now. I'm definitely a "Small Herd Person".
---
Write us with your comments and suggestions.