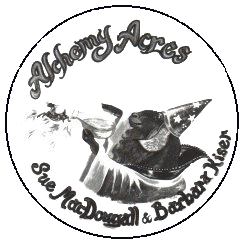 Alchemy Acres
presents
Tip of the Month








---
We've talked in the past about the care and feeding of our animals. We keep these animals because we love them and enjoy the personal interactions, but any animal which resides on a farm must earn its own way. Very few people can afford to subsidize a raftload of freeloaders. So this month we are beginning a series of articles about the financial aspects of goatkeeping. This first installment was written largely by Trish McKee when she owned and operated the Homesteader, and she has graciously allowed us to plagerize her composition.
If you buy a $300 doe kid (8 wks old) to raise as a family milker, you will probably get a full return on your investment by the end of her first lactation (about 1.75 years). The economics breaks down as follows:
You will feed this doeling about 1 lb of grain per day until she freshens. If she freshens at 1 yr of age, you will have fed her for 10 months. At the price of $12/ 100 lbs, this grain will have cost you $36.60.
During this dry period, your doe kid will consume perhaps 10 bales of good grass hay at $2.50/ bale, which adds another $25 to her overall cost.
When your doeling freshens, you will up her chow to match her production. This means you will feed 1 lb of grain for every 3-4 lbs of milk produced - in addition to the 1 lb per day for weight maintenance. If your doe averages 5 lbs milk/day over a 305 day lactation, she will consume another 915 lbs of grain costing $109.80.
This lactating doe will pack away perhaps another 15 bales of good hay, which will set you back $37.50.
There will be incidental expenses for deworming, feed supplements (vitamins), veterinary, etc. Figure these will average $50.
If you add these costs up, you'll see that by the end of her first lactation, your doeling will have cost you $558.90. The $300 paid for the kid, although it may seem excessive to the new goat breeder, should have started you with a nice animal out of good bloodlines. This is important when it comes to marketing the end products - progeny and milk. It goes without saying that the other costs can skyrocket if you purchased an unhealthy animal or you did not take good care of your investment. Good care -in selection and care of the kid - will make or break you.
So we've covered the costs. Now let's take a closer look at the income your investment will generate:
If the doeling freshened with twins - one doe and one buck - you can sell the weathered buck at 6 weeks for $25. You can get up to $40 if you market him for meat. I prefer to keep them no longer than 6 weeks. The doe kid, if sold at standard export prices at 8 weeks, will be worth $125 to $175. This gives us a total of $150 for the sale of kids.
If your doe averages 5 lbs milk for 305 days, she will have milked 1525 pounds of milk or 173 gallons. You will feed the kids two pints per day - the buck for 6 weeks and the doe for 8 weeks. This consumes about 25 gallons, leaving you with 148 gallons to consume or sell.
Goat milk is conservatively valued at $4/ gal. Your surplus milk is valued at $592. The milk price is the same no matter how you use it. This includes feeding calves, pigs, or supplying other animal breeders such as kennels or stables. The doe supplied the milk, and it is up to you to use it to make a profit.
So if you add up your income on investment, you will have grossed $742. Simple arithmatic gives us a net profit of $183. At this point, your doe has paid for herself and is ready to kid again.
I cannot emphasize how important good animal husbandry is to your realization of these profits. And these are all very conservative estimates. You can cut hay expense by use of pasture. If you purchase good stock and breed to outstanding sires, your kids should be worth considerably more than $125. And if you purchase good breeding stock, your doe should give you more milk than 5 lbs/ day - at least after the first lactation.
It is possible to turn a profit on your little goat enterprise - or at the very least avoid having your cherubs eat you out of house and home. Of course, turning a profit implies that you're able to market your product, and next month, well talk about some marketing strategies.
---
Write us with your comments and suggestions.