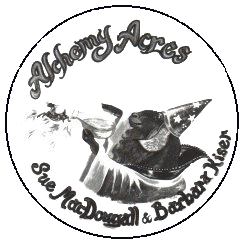 Alchemy Acres
presents
Tip of the Month








---
This article first appeared in the "Homesteader's Connection" and is reprinted here with the permission of Trish Mckee, the founder and first editor of same. Thanks Trish!!!! I think we all could use a little assistance with our goatkeeping enterprises. Melissa Holt wrote this "help wanted" ad years ago. I saw it and thought it quite appropo.
Position Available

Candidate must be hard-working self-motivator with the ability to remain calm in stressful and unexpected circumstances.
Experience in the following areas would be helpful: nutrition/dietician, farmer, herbalist, animal anatomist, pharmacist, midwifery.
Carpentry and construction skills, although not required, would be helpful.
Compassion and a "second sense" would be a plus, along with the ability to anticipate and intercept potential problems before they become major liabilities.
Candidate must be willing to manage biodegradable waste products with emphasis on recycling the "end product" back into the earth. Job requires a long, irregular work schedule with virtually no vacation days. There will seasonal periods of night shifts.
Good record keeping and accounting skills are also required in order to maintain an accurate, consistent operation.
Candidate does not have to be proficient in all of the above job requirements, but must possess a learn-as-you-go attitude and a desire to seek out others in this field to acquire knowledge from them.
Boy!!! Howdy!!! Somebody please remind me why I chose this life style. It sounds right demanding.
---
Write us with your comments and suggestions.