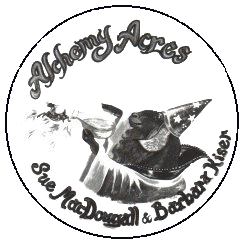 Alchemy Acres
presents
Tip of the Month








---
As promised, this month, we're going to provide the second half of the list of medications and supplies that the well-prepared goat keeper should have on hand. Again, I wish to thank Sue Reith of Washington State for her generosity in allowing me to publish her list here for your benefit.
Medicines and Supplies to Keep on Hand at All Times


Penicillin G injectable: Basic broad-spectrum antibiotic that covers many common bacterial infections in goats. For theraputic use, injected daily for 5 days minimum, with the first dose being doubled. Useful topically as well for minor eye infections.
Penicillin G Procaine/Benthazine injectable: Long-acting penicillin for preventative use. Stays in the bloodstream for a week. Use it along with dexamethazone to protect the immune system that has been compromised by the presence of dexamethazone.
Oxytetracycline LA 200 injectable: Long-acting tetracycline injectable, 200 mg/ml, very broad spectrum and excellent for dealing with a wide range of bacterial infections, including topical use for treating eye infections.
Tylan 200 injectable: Tylosin 200 mg/ml. Another excellent broad spectrum antibiotic - good treatment for Mycoplasma infection (heaven forbid!!!!!!). Also good for use topically for treating eye infections.
Saline solution: For possible dilution of other medicines. A 250 ml bottle is very inexpensive and should be kept on hand.
Vitamin B Complex: Useful for restoring health to depleted animals. Can sometimes "jump-start" the apetite of an animal who is off-feed. Also can mean the difference between life and death if the animal has eaten mouldy hay and is suffering from acute Vitamin B deficiency (see Thiamin B1, below). Do not overdose on Vit.B. Have epinephrine on hand while administering Vit.B.
Iodine, 7%: Strong iodine for immediate dipping of newborn kid's navel and feet. Will most probably prevent navel ill.
Betadine Solution: Good for lavaging open wounds.
Hydrogen Peroxide: Good for laveging open wounds.
The following are prescription medications that are extremely useful - even essential - to good management procedures (if a veterinary prescription can be obtained for them). This means you must have a very good working relationship with your veterinarian. You must know your vet, and must work cooperatively with her/him.
Prescription Medications to have on Hand


BoSe: selenium/Vitamin E injectable. Essential for health balance in goats in deficient ares of the country (ask your local extension agent and your vet if your area is deficient). A myriad of problems, including "floppy kid syndrome" or white muscle disease, result from selenium deficiency. Do not overdose.
Thiamin injectable: Vitamin B1 injectable. The emergency correction for bracken Fern poisoning, Polioencephalomalacia, both of which have similar characteristics and treatment, and both of which respond quickly to Thiamine therapy but are lethal without it.
Oxytocin injectable: Great assist during labor, expulsion of afterbirth. Do not use until you are positive the cervix has dilated.
Gentamycin injectable: Highly effective antibiotic which clears up pathogens untouched by Penicillin, LA 200, Tylan. Very careful dosage by weight required.
Lidocaine injectable: Numbing agent used by dentist while filling peoples teeth. Excellent for deadening pain in scrotal area when bucklings are castrated.
Banamine injectable: Non-steroidal pain killer, anti-inflammatory, temperature regulator all rolled into one. Outstanding supportive therapy for any sick animal. Has animal eating and feeling better while you wait for the antibiotic to kill the pathogens causing the illness. Can be used following a difficult disbudding if there is any concern that the iron was left on the burn area too long. Banamine injection will prevent swelling of the kid's brain in that case.
Prostaglandin injectable (Lutalyse): Will bring a doe into season prior to an AI, will abort her if there is an unwanted pregnancy, or can bring her into labor in the course of a management crisis (I don't like to do the latter - the deliveries tend to be more difficult).
Panalog: An excellent topical ointment that deals with both bacterial and fungal pathogens. Anti-inflammatory as well. Wonderful for healing all sorts of wounds. Pack open wound with it after cleaning for fast healing. This may be one of those items you'll raid for yourself from the goat cabinet.
We hope this listing of medicines and supplies is helpful to you-all. Next month, we'll try to get you a list of catalogs and sources where you can shop semi-economically. In the meantime, have a great month.
---
Write us with your comments and suggestions.