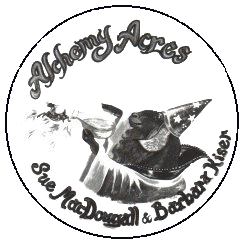 Alchemy Acres
presents
Tip of the Month








---
A few months ago I printed a listing of "The Eternal Truths". A friend of mine (Sharon Davis) sent me a new list of pearls of wisdom which I believe warrant addition to that list. So here goes!!
The Eternal Truths - Part II




May you have enough happiness to make you sweet, enough trials to make you strong, enough sorrow to keep you human, and enough hope to make you happy.
When the door of happiness closes, another opens. Often times, however, we look so long at the closed door that we fail to see the one which has opened to us.
The best kind of friend is the kind with whom you can sit on the porch, swing, never say a word, and then walk away feeling like it was the best conversation you ever had.
While it is true that we don't know what we have until we lose it, it is also true that we don't know what we've been missing until it arrives.
Looks can deceive. Even wealth can fade away. Strive, instead, for that which makes you smile, because it takes only a smile to make a dark day seem bright. Find those things that make your heart smile.
Dream what you want to dream; go where you want to go; be what you want to be, because you have only one life and only one chance to do all the things you want to do.
The happiest of people don't necessarily have the best of everything; they just make the most of everything that comes their way.
The brightest future will always be based on a forgotten past. You can't go on well in life until you let go of past failures and heartaches.
When you were born, you were crying and everyone around you was smiling. Live your life so that when you die, you are the one smiling and everyone around you is crying.
These pearls are a bit more serious than those on the last list, but I hope you enjoyed them as much as did I. Next month we'll again get back to the more serious "stuff" of goatkeeping.
---
Write us with your comments and suggestions.