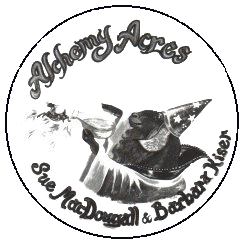 Alchemy Acres
presents
Tip of the Month








---
After three months coverage of the training of harness goats, we're going back to basics - namely simple items to know for examining your animals.
Normal Vital Signs in the Goat


Pulse

100-120/minute (kid)
70-80/minute (adult)

Respiration

12-20/minute kid)
9-15/minute (adult)

Temperature

101.5-104 degrees F (38.6-39.8 degrees C)

Rumen Contractions - observe in left flank

1-3/minute
Basic Physical Exam


General Attitude and Presentation
Temperature
Respiratory Rate and Pulse
Color of Mucous Membranes - pink? white?
Eyes, Nose, Mouth if possible - clear or discharges - foreign bodies
Sound of Breathing - throat and chest
Hydration - Skin, eyes, gums
Rumen Contractions - listen, feel, watch upper left flank
Evidence of Diarrhea?
Haircoat - shiny, rough, check for parasites
Limbs, Joints, Feet - animal moving freely?
Examine for Abscesses - throat, neck, shoulder, flank
I view theses lists as an aid to your veterinarian. When you have a potential health problem, call your vet immediately. However, you can assist the vet (and lower your bill) if you check these vital signs and functions before you call. Perhaps the vet can solve your problem over the phone. At the very least, your vet will have a much clearer idea of that which faces him/her when he/she gets to your farm. Good luck, and good "goating"
---
Write us with your comments and suggestions.