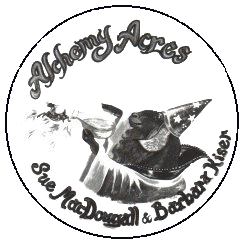 Alchemy Acres
presents
Tip of the Month








---
Last month, we gave you the first half of a "primer" of helpful hints which can be given to a customer who is new to "goating" and who is purchasing one of your precious kids. As we promised, this month we're covering the second half of this "primer" and will consider breeding, kidding, and housing, as well as a few miscellaneous random thoughts.
Breeding and Kidding

We breed only once a year - usually in the Fall. We want the dams to fully recover so that they and their kids will be strong and healthy. We do not suffer a loss of productivity, as the does always give us multiples - triplets and quads not being unusual. Also, we have the benefit of greater milk production if the does are not bred twice yearly.
Does usually come into stronger heats in the Fall, but they can be bred at any time of year - heat signs are every 19-21 days. Bleating, tail wagging, being off feed, having a clear discharge, possessing a red or swollen vulva, or mounting other goats are the normal signs for which to look. All, some, and in a few instances, none of these signs may be present. For this reason, we like to keep a buck in the pen adjacent to the does. For those not having a buck, a rag rubbed over the scent glands of a mature, virile buck will help bring more visible signs of heat.
Does may be in standing heat for anywhere between a few hours and three days. We like to breed as soon in heat as the doe will stand for the buck. Then she will not see the buck again during this cycle. We believe this usually gives us a greater preponderance of female progeny.
We usually wait to breed young does until they are 7 months old and weigh at least 70 pounds. Waiting until they are larger gives us a better chance of multiple kids. In this manner, we have fewer instances of one large kid and/or a problem delivery.
Pregnancy lasts anywhere from 145 to 155 days, with 150 days a good average. Kids are carried predominantly on the right side, and gain most of their weight during the last two months of the pregnancy. Make certain that mama is eating well (don't make her fat).
We may pen the doe at night for a few days prior to the expected blessed event. Give the doe a good drink of water, and then remove the water pail just in case she surprises you and delivers early. Finding a drowned kid in a water bucket is a heart-wrenching experience you can do without.
Read any and all books you can on management and what to expect during kidding. Talk to your veterinarian and a respected breeder near you. Better to learn before hand than to receive a "crash" course on crisis management. Usually, the doe will have no problems.
We give a couple cups of 100% bran cereal along with some hot water containing pasturized molasses or honey. The doe will usually guzzle a bunch of liquid to replenish the fluids lost during kidding.
Milk a few cups of colostrum (first milk) from the doe. We prefer to feed the newborns heat-treated colostrum, so you'll have to have this on hand prior to the birthing, because the kids MUST have this first milk - preferably within the first hour of life.
Milking the doe will stimulate the passing of the afterbirth (do not pull). We try to remove the afterbirth from the ground before the doe eats it. It doesn't hurt if she devours the afterbirth, but it kind of grosses me out.
Our babies are removed from the dams at birth and fed pasturized milk. The doe will cry a bit, so give her lots of love and extra attention at this time. You then become her "baby", and the bonds between you and your doe will strengthen.
Supplies for Kidding Box

Clean towels
Paper towels
Bactine
Dental floss (for tying off cord, if necessary)
Infants small syringe bulb (for removing mucous)
Plastic "medicine" cups filled with 7% betadine (for dipping end of cord, navals, and feet)
Sterile, blunt scissors
Latex gloves
Baby bottle/ lamb nipples
Flash light with fresh batteries (just in case)
Liquid hand sterilizer (betadine will do)
Plastic bags for dirty towels (after you dry off kids)
Intercom - for hearing doe going into labor - is quite useful and is a great stress reliever
Worm does a few days after they kid
READ/ READ/ READ
Housing

The barn and surrounding area should be dry and well-drained. We have used about 4" of small gravel topped with another 4" of crushed (not powdered) agricultural lime. This allows urine to drain, and the bedding stays fresher. We sweep the pellets off the floor daily. Only during extremely cold weather is the bedding allowed to build up. Fresh air is vital, and the barn must be well-ventilated - but not drafty (there is a difference).
Dogs - yours, your neighbor's, or feral - are the biggest killers of goats. Our fences are at least 4' high and have hot wire running along the top and 6" from the bottom. And of course, we reinforce the fences with 2 Great Pyrenees guardians. A trapper once told me that a coyote could easily clear my 5' fence carrying one of my precious babies. Hence the Pyrs.
Gates should be kept closed at all times - make it a habit. Use goat-proof latches. Goats can seemingly open just about anything. They are clever, so give them something to occupy their time - toys or free-choice hay for example. That way they don't stand around thinking up mischief.
If a goat escapes your pasture, don't chase her. She's fast and can turn on a dime. Better to try bribery. It works for me every time, and the goat is far less traumatized. This is also the way to tame a skittish goat - nice, quiet movements, a low, soothing voice, and a feed pan with a treat. With a little patience on your part, the animal will soon be coming to you and will learn to trust you. A branch of poplar or maple leaves is always a welcome bribe.
Odds and Ends

Be careful with collars. We use them, but have a "breakaway" link so that the collar will break before a goat can become fatally trapped in a fence.
We groom the goats once a year after the threat of cold weather has passed. This way the goat does not suffer thru the hot summers, and we can make certain that the animal does not have a parasite or fungal problem. Be careful not to get the animal sunburned when you groom. We use suntan lotion with sunblock for the first couple days after we shave them. And, of course, the animal always has access to a shady nook somewhere.
Don't teach kids "cute" tricks that won't be funny when they grow to between 175 and 300 pounds. An example of foolish behavior (on your part) is to have a pushing contest with your baby buck. He'll learn its great fun, and when he gets full grown, you'll have a BIG problem. At the very least, he'll have to be punished for your stupid and thoughtless behavior.
Periodically check for lice, and if necessary, dust with louse powder. Read the directions on the container before treating any goat.
Trim hooves at least once a month. Good feet mean strong healthy legs.
Know the behavior pattern of each animal, and you'll be able to spot subtle changes that could develop into serious problems and/or illnesses. Treating the animal at the outset is far more cost-effective, and can mean the difference between life and death.
As I said last month - keep in mind that this is how we do things - what works for us. You will undoubtedly want to modify the list to suit yourself. We just hope this list helps you to keep your cherubs happy, safe, and healthy. I'm not certain what subject we'll cover next month. If you folks have any ideas, just let me know. Otherwise, I'll come up with a topic that suits my own fancies. Good luck with your coming kidding seasons.
---
Write us with your comments and suggestions.