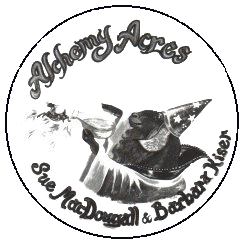 Alchemy Acres
presents
Tip of the Month








---
Our kids - goat and otherwise - are our most valuable assets, and it behooves us to put a bit of effort to assure that they get a good start. We have kept and raised goats for over 25 years and feel we have a bit of "wisdom" to pass along on this subject. So here goes!!!!
We bottle raise all our kids. During the first 24 hours of life, the kid needs at least 2% of its bodyweight in colostrum every 2 to 4 hours - more if it will take this. We feed 4 oz colostrum every 4 hours. This colostrum has been collected and heat treated in the prior year, as there is insufficient time to milk the doe and then heat treat the milk after the kid is born. If you do not have colostrum stashed away, perhaps you can buy (in advance of dire need) some from a near-by goat keeper. Your last resort is the powdered forms of colostrum available at most local feed stores or Co-ops. We have not used this form of colostrum,but have heard that they work wonderfully. After about 2 days, we start to feed regular pasturized goats milk to the kids - as much as it will drink (maximum of 2 sixteen bottles a day). Your doe should have received her tetanus and CDT enterotoxemia vaccinations about a month prior to her due date. If, however, she was not vaccinated, then the kids do need their routine tetanus, CDT, and selenium shots. After a couple days, we give each kid about 5 cc's of Probios. If a kid still seems weak, we give it extra vitamins in the form of RedGlo - about 3-5 cc's every 3 days. Of course, all this assumes the kid is drinking heartily on its own. If the kid is NOT drinking enough on its own, then it should be tubed and the sooner the better. Tubing is something that your vet or another knowledegable goat person can teach you and is a lifesaver. If all else fails, click on our "Archive" button and locate the article we did on how to tube feed. Others might say that if you tube feed them, they will not suck, but this is not true. In my many years of experience and many times saving a weak kid for other folks, this has not been the case. If the kid is not sucking as strongly as you'd like, try a different nipple. I use the nipples meant for bucket feeding, but a Pritchard nipple can work well for kids,also. You might even try a nipple meant for a human baby. Sometimes it helps to enlarge the hole in the tip of the nipple so as to make it easier for the kid to suckle. It can seem harrowing, and sometimes you wonder how the kid can be so dense, but eventually, the kid will start to swill the milk like a pro.
Good luck with raising a whole slew of healthy, strapping babies.
---
Write us with your comments and suggestions.