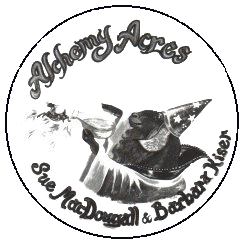 Foxwood Popovi Da
---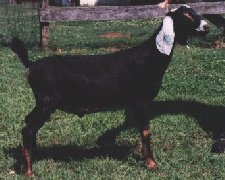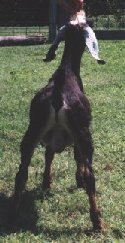 Po remains our junior herdsire for the 2000 crop of kids, as his kids from last year were real knockouts. Po was bred by Paul Fox by crossing his champion Honey Bear Pansy (see below) with a son of his champion Cadillac Piejar daughter, McCayla. Pansy is a daughter of our Paisley and Flora Farm Mentor, the sire of Meringue. Our kids will be heavily linebred on these two outstanding animals, so you can understand our excited anticipation of the Y2K kid crop of Po's. As you can see from these pictures of Po - he is very wide, deep, and level. He not only has great strength of pedigree, he is good-looking in his own right. This buckling comes from a long line of outstanding mammaries, and will be bred to does from long lines of outstandong mammaries. Order your kids now, and get your choice from the 2000 crop.
---
Sire's Sire:Kismet Marvin's Smooth Operator

Sire:Foxwood Cisco

Sire's Dam:CH Briarknoll Piejar's McCayla




Dam's Sire:Flora Farm Mentor

Dam:Honey Bear Mentor's Pansy

Dam's Dam:Honey Bear Hagen's Paisley
---
Dam of Po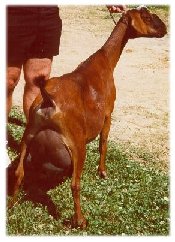 ---
For more information, e-mail us.