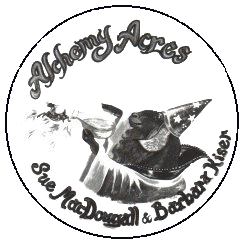 Honey Bear Paisley- In Memorium
---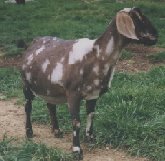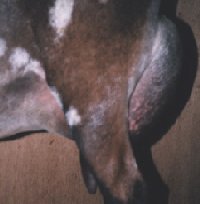 Paisley was a huge doe who had to be seen to be fully appreciated. She was shown sparingly, starting at four years of age. Still, she placed GCH in four shows and won Champion Challenge in four others. She was Best Doe in Show and took Best Udder at these same competitions. Paisley reproduced herself in her kids, throwing power and size, as well as supurb dairy character. Her kids show well, and we know she has at least two daughters who have finished their championships. Paisley was our most gentle doe, despite her size, and was a real joy with whom to work. She was productive, and milked 8-9 lbs./ day.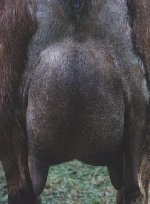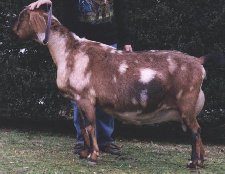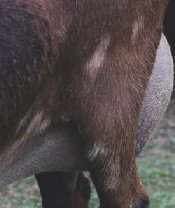 ---
Sire's Sire:*B Flora Farm Royal

Sire:Honey Bear Hagan

Sire's Dam:GCh Flora Farm Heather II 4*M




Dam's Sire:++B Muirhill Kate's Mosby

Dam:Muirhill Mosby's Striper 1*M

Dam's Dam:Cherry Hill MFH Helenelizabeth
---
Sold
Paisley was bred to Dauntless for 2004 kids. The kid produced by Paisley and the sire of Dauntless was truly outstanding, and we had hoped for a repeat performance. Sadly, this was not to be. Paisley passed away two weeks prior to her due date. We could not save any of her triplet kids (two does and a buck), which was a bitter disappointment. However, two of Paisley's lovely daughters (Deja and Puabi) continue to produce good-looking, productive animals for us, and I am grateful to be blessed with them. Check out their pages to see the continuation of Paisley's line.
---
For more information or a hardcopy brochure, e-mail us.