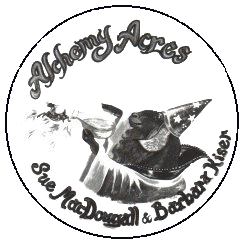 Small Haven Alchemy's Dauntless
---
Sold
---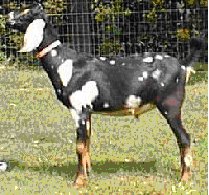 This buck is the grandson of Faith Farm Genesis, the sire of the 2nd place get at the 2000 ADGA Nationals. But even better, he is the son of Mirage, an absolutely gorgeous daughter of our beloved Meringue. Meringue possessed the most beautiful mammary of ANY doe I have ever seen. And as you can see from the photo below, Mirage has all her mother's "Good Stuff". In addition, in Dauntless we are bringing back into our herd another two of our favorite animals - Tarheel Q's Whitney and Flora Farm Tennessee Volunteer (sire and dam of Houston). Both sides of Dauntless' family are noted for powerful, big-boned animals with long, level toplines, very wide escutcheons, level rumps, great conformations, and absolutely supurb mammaries. Dauntless has produced beautiful kids every year, who excel in width of escutcheon, levelness of topline and rump, supurb skin, and in breed character. Dauntless looks great, has super genetics, and best of all, passes all this good stuff to his progeny. However, since we have decided to take a year's hiatus from the rigors of raising babies, we decided to sell Dauntless in time for another farm to utilize his supurb genetics this coming Fall.
---
Sire's Sire:++*B Faith Farm AG Genesis

Sire:Foxwood Ali Bubba

Sire's Dam:Foxwood Natasha




Dam's Sire:AA Whitney's Houston

Dam:Alchemy Acres Mirage

Dam's Dam:Honey Bear Meringue
---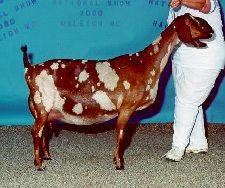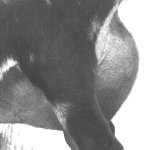 These are but a few of the female forebears of Dauntless. We expect Dauntless to carry on the tradition of fine mammaries coupled with excellent conformations.
---
For more information or a hardcopy brochure, e-mail us.