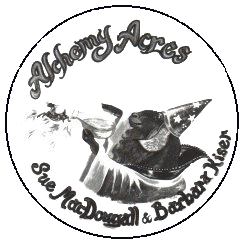 Alchemy Acres Deja Vu
---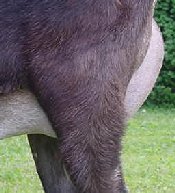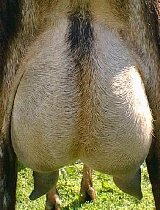 What else could I want?? Here is a daughter of the great Paisley by a son of the beautious Meringue. Here I have great size as well as magnificent mammaries. And to top it all off, Deja Vu is the image of her paternal granddam, Meringue, whom I loved so much. Vu is truly my gift from the Almighty! As you can see, Vu possesses a lovely udder.
---
Sire's Sire:Honey Bear Joker

Sire:Alchemy Acres Merlin

Sire's Dam:Honey Bear Mentor's Meringue




Dam's Sire:*B Flora Farm Hagen

Dam:CH Honey Bear Hagen's Paisley

Dam's Dam:Muirhill Mosby's Striper *M
---
Sold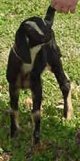 Deja was bred last Fall to Dauntless, in hopes of getting the same beautifully conformed kids this pair produced last year. They did not disappoint. Deja's doe kid is a knockout. Mary Ann Skalany, of Monticello, Florida, did not move after all, and has since snagged her baby as she had originally planned.
---
For more information, e-mail us.